This was another good weekend of bargains at yard sales. I added to my collection two red edged pyrex dishes to match my red pyrex refrigerator dishes. After seeing
Susan's
post about her pyrex finds, I decided a photo shoot was in order. Luckily, I found the dishes in one of the 158,495,594,984 still-unpacked-boxes in my basement. I really like using these old refrigerator dishes they are so much prettier than plastic storage dishes.
I also scored an old-metal-red-trimmed bread box, and the cute little white ironstone bowl in the picture below.
Everything on the shelf was found at yard sales over the years, and are items that I use on a regular basis.
I'm linking to
Rhoda's
Thrifty Treasures party, be sure to have a look at all the thrifty goodness on her blog.
and
Linda's
party at Costal Charm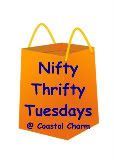 Thanks for stopping by!